Welcome to Barkham
This web site is about Barkham, an attractive semi-rural area on the outskirts of Wokingham in the county of Berkshire, and is the work of the Barkham Village Residents Association (BVRA).
Our aim is to:
provide news of what is going on in Barkham and the surrounding area

supplement the information provided by our BVRA newsletters (4 issues each year)

provide regular reports on Wokingham Borough Council's development plan

develop a stronger local community
Please give us your feedback on the new website by clicking here to send a message to our webmaster
Voice Your Opinion About Barkham
The Barkham Village Residents Association website was re-launched last year. Since then we have focused on bringing you the latest news about Barkham.
Now we offer you the chance to voice your opinion about Barkham - we are launching the Barkham Forum as part of this site. The forum will allow you to take part in discussions about matters that affect you in Barkham.
To visit the forum just select the 'Forum' option from the menu at the top of the screen, and remember you will need to register in order to be able to post on the forum.
---
Carols in the Park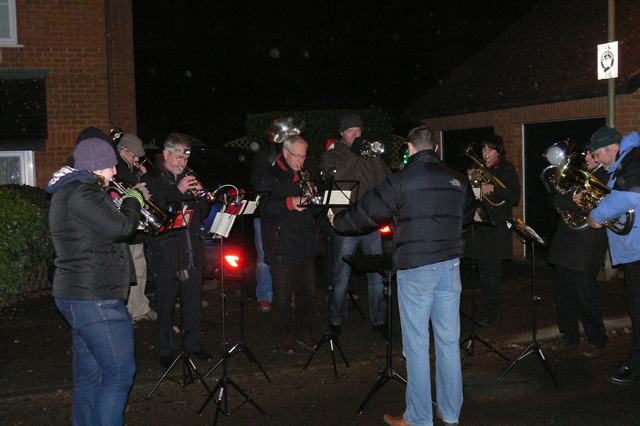 The annual Carols in The Park on 20 December was, as usual, well supported by Barkham residents.
Luckily we finished just before the rain set in! Thanks as always to the Breakaway Brass band who provided us with the musical accompaniment and the BVRA Social Committee for the mulled wine and mince pies.
The band also asked us to pass on their thanks to residents for the bucket collection towards their funds, which raised £78 on the night.
100 Attend the Quiz Night
On Saturday 16th November one hundred people enjoyed the quiz evening, with a fish and chip supper. Seventeen teams competed against each other to win the shield. The winners this year were, once again, DENSA and they are to be congratulated - they have obviously worked out the best way to play their 'Joker' cards.
We, the committee look forward to seeing you all at the Carols in the Park on Friday 20th December.
Judith Collins
Another Successful Skittles Evening
Over seventy people attended the skittles evening in the village hall on Saturday 5th October.