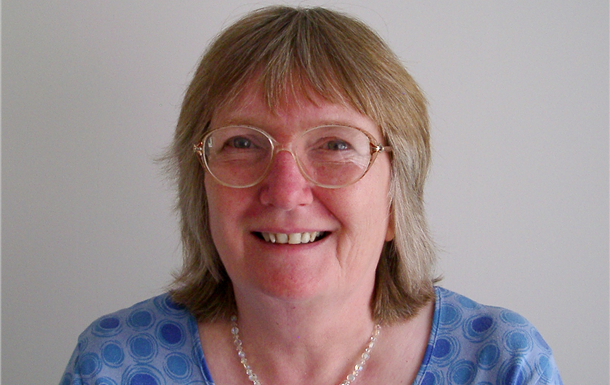 It is with great sadness that we announce that our Committee Secretary Pam Edwards passed away on 20th July 2019, after a short illness. She has been a driving force behind the BVRA since its inception and we send our deepest condolences to her family and friends.
As co-founder of the organization which was formed by herself and Christine Thomas in 1987 to raise awareness of the threat of development in The Coombes, which then became the BVRA, she has been a major part of the community for many years. A keen bridge player, quilter and talented crafter who was always willing to give her time to run cardmaking sessions with the Barkham Ladies Club. She was active with so many groups, she will be sorely missed.
Memories from friends
My family and I moved to Barkham at the end of 1986. Fairly shortly after we arrived we got a note through the door inviting all residents to attend a meeting at the Village Hall about development plans for The Coombes. The note was from Pam and Christine, neither of whom we knew at the time. My wife, Trish, and I decided to attend, mainly so that we could get to know some local people. I'm not even sure we knew where The Coombes were at that point!! Anyway, the meeting was well attended, and Pam and Christine made the case for fighting the development plans very well.
At the end of the meeting, volunteers were asked to form a committee to take matters forward. I duly stayed behind, and over the coming months we formed ourselves into a formal organisation. I remember that, early on, we considered that we should call ourselves the Barkham Residents Association. Luckily Pam pointed out that this would have an unfortunate abbreviation, hence the word 'Village' was inserted to make the acronym respectable! I became the first Membership Secretary, and we agreed to request a small annual fee to help fight the developers. Pam was the treasurer at that time.
Over the coming months/years we managed to prevent the Coombes development. I am quite certain that without Pam and Christine's initiative the development would have gone ahead; and while many others deserve a lot of credit for preserving the woodlands, they were the catalysts. At some point around then we agreed that the momentum generated by the initiative should not be wasted, and decided to start holding social functions, and to produce a regular newsletter - in other words, to become a 'proper' residents' association as opposed to a pressure group. Pam was heavily involved from the start. And, as they say, the rest is history. At some point I became chairman, and I used to write a 'chairman's piece' for the newsletter. In 1993 when my wife Trish died, Pam (who was deputy chairman at the time) wrote this piece in my stead, and I remember being very touched by her words about Trish. It was typical of her, and I feel a strange, exquisitely sad sense of circularity writing these words now. I was very sorry when we lost touch after moving to Northamptonshire in 2011.
Hearing of Pam's death was as much a shock as a sadness to me. She was a quiet, sound and steadfast friend. My thoughts and prayers are with Alan and their family.
Digby Carter
---
I first met Pam when I took over as BVRA membership secretary about 20 years ago as she was treasurer and I have memories of coming to her house with bags of cash! She had been involved with the BVRA from its founding in 1987. She moved away with Alan soon after that and I remember visiting their new bungalow for Pam's farewell BVRA meeting.
When she returned to Barkham a couple of years ago and I was acting chairman, I was very pleased that Pam was willing once again to support the BVRA, this time as secretary.
Pam will be sadly missed, obviously most dearly by Alan and family members but also by the many people in Barkham who have benefitted from her help and friendship over the years.
Stewart Richardson
---
I first met Pam in Bearwood Road; she was pushing Paul in his pushchair and I was pushing Ralph in the opposite direction, having both been told by the National Childbirth Trust that there was another person living in Bearwood Road with a toddler. We hit it off straight away. A keen gardener (as is Alan) she encouraged me how to grow annual flowers, and introduced me to Barkham Wives where she was treasurer. The Wives held an annual May Fair, and I remember ringing her up the evening after one Fair to ask how much money we had made. She said she was still counting, but had not started on the ice cream money as it was so sticky it was soaking in a bowl of water and washing up liquid … a rather unique method of money laundering.
Pam was also a founder member of the Barkham Village Residents Association in 1987, original formed to stop building on the Coombes, a 67 acre wood off Bearwood Road. On the night of the open meeting to see if anyone wanted a residents association, I remember saying to her "What happens if no one comes?" she replied "We eat the biscuits and drink the coffee and go home" From that meeting we had a committee and Pam, a maths graduate, became it's treasurer. The Coombes has still not been built on.
Our children went to playgroup together and primary school together and called either of us Mummy!
Pam was an enthusiastic and talented quilter. She joined the Wellington Quilters and one of the quilts made from that time was Stephanie's Flower Garden; each member of the group made a patchwork square and then Pam got the squares back to put together, quilt and keep. She made a very nice job of hers!
In 1991 Pam signed up for the City and Guilds 930 patchwork and quilting course. This was one day a week attending college for two years, and supposedly one day a week for homework…..and the rest. She really enjoyed it, the art and design core stretched her and she became very proficient at designing patterns for herself. She also became very accurate at pieceing and her choice of colour was wonderful. She has made many very intricately designed quilts. Pam was very well organised, and a great person to go to a workshop with, whatever I had forgotten, she had usually brought two!
About this time Cabot Conferences started up in Bristol. These were weekend conferences at a hotel in Bristol where two famous, usually American quilters and teachers would lecture and run workshops. She went to many of these. In the latter years the group of ladies who went became firm friends and met up regularly in the hotel in Bristol and took their own projects to work on.
I saw less of Pam when she went to work with Alan in his company. However when she retired, a group of us who had all been in the Wellington Quilters met regularly under the name of the Old Boots, to catch up with each other's families, Pam was a Granny by now, and work on a variety of projects including making quilts for a children's charity Project Linus.
I am going to miss her laugh, her enthusiasm, her interest in all that went on around her. I have lost a wonderful friend.
Christine Thomas
---