Barkham Bridge – update from John Kaiser, WBC councillor for Barkham (07714192352)
The Barkham Bridge project consists of a new bridge structure across the Barkham Brook and approximately 300 metres of associated carriageway realignment. The current Barkham Bridge is a highway structure along B3349 Barkham Road, operating on a priority give-way system. It will be retained and be converted to a shared footway/cycleway, connecting the sections of footway to the east and west. The new bridge is to be constructed south of the existing Barkham Bridge within private land. The improvements are in order to accommodate continuous flow 2-way traffic which are needed in order to alleviate a potentially dangerous choke point and help ease congestion.
As part of the project scope, the council have included the refurbishment of the existing highway drainage system leading up to School Road. In addition, the project team is aware of the condition of the existing Thames Water main on Barkham Road and will likely have to divert a section of this as part of the bridge works. They will explore opportunities with Thames Water to look at the water main beyond the project scope, particularly, in light of the burst pipes in mid-August 2018. This means the site will occupy a considerably larger footprint than would be expected just to deliver the bridge.
Confirmation from the Planning Authority in February 2017 concluded that the improvements were considered permitted development under the Town & Country Planning Act and did not require a planning application. Preliminary design work was completed and agreed in March 2018 which proposed a new off-line bridge to the south of the existing structure to provide 2-way traffic on Barkham Road, removing the existing bottle neck. As the project has developed since February 2017, we recently sought confirmation of this permitted development based on the scheme layout.
Balfour Beatty has started the work after undertaking some ground investigation works which included feedback from Thames Water and the Environment Agency, to inform the detailed design of the bridge structure and further survey works will be on-going to inform the design.
There is a communications plan and list of key stakeholders with Balfour Beatty to allow them to take forward on-going project updates, more details can be found on Wokingham Borough website at https://www.wokingham.gov.uk/roadworks-and-outdoor-maintenance/major-new-roads/barkham-bridge/
Construction starts in autumn 2019 and is due to open for traffic in spring 2021.
Barkham Bridge is part of the £124m Highways Programme delivered under the SCAPE Procurement Framework which includes the Arborfield Cross Relief Road, Barkham Bridge improvements, Winnersh Relief Road - Phase 2, Lower Earley Way Dualling and three projects which form the South Wokingham Distributor Road, Eastern Gateway, Spine Road and Western Gateway.
Satellite view of the area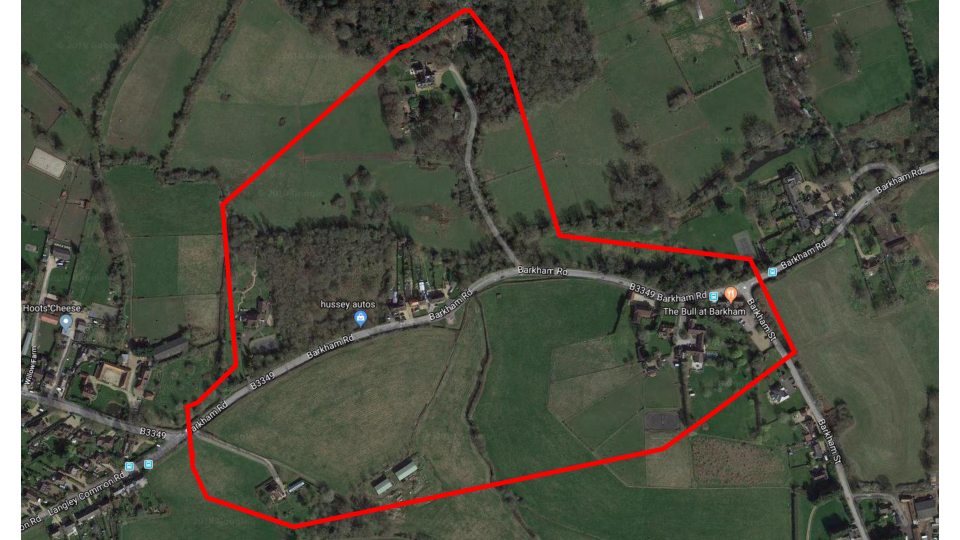 Map showing the old and new road layout