News
Details
Enter our Christmas hamper competition here. Entries close on 17th December, and the winner will receive their prize in time for Christmas.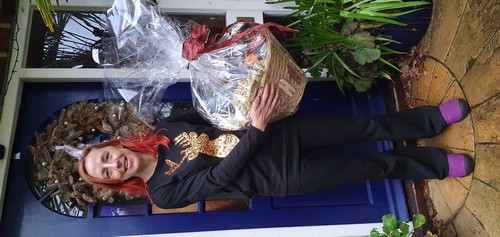 Last year's winner receiving their hamper.
Details
The Barkham Village Residents Association website is focused on bringing you the latest news about Barkham.
The forum has now closed and been replaced by a Facebook discussion group. To join please visit please visit our Facebook page and then select the Groups option in the left-hand column.
---
Details
Barkham Village Residents Association
AGM Meeting.
Tuesday 10thth November 2020
Present: Alison Goudge (AG); Alan Dixon (AD); Gill Powell (GP); Shirley Warner (SW); Stewart Richardson (SR); Dave Clements (DC); Suzanne Trigg (ST); Richard Roberts (RR).
Chairman's welcome
The AGM was not held as a Public Meeting due to the Covid 19 pandemic. Residents were invited through the BVRA Website to submit questions or highlight issues/concerns. None were received. The Committee Meeting did take place and any resident may request copies of the reports submitted by the individual committee members. This summary highlights the key points that were discussed and agreed.
Details
Click to access our newsletter library
And try our latest quiz "First and Last" here
Details
There is an error in the Autumn 2020 newsletter. The telephone number for Pilates shoud be 0118 989 2571