News
Details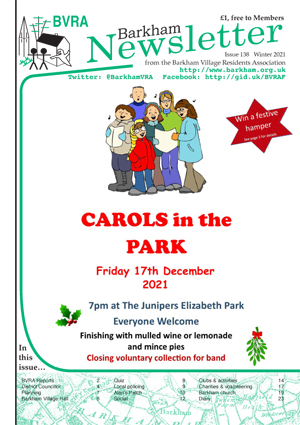 Click to access our newsletter library
And try our latest quiz "AKA" here
Details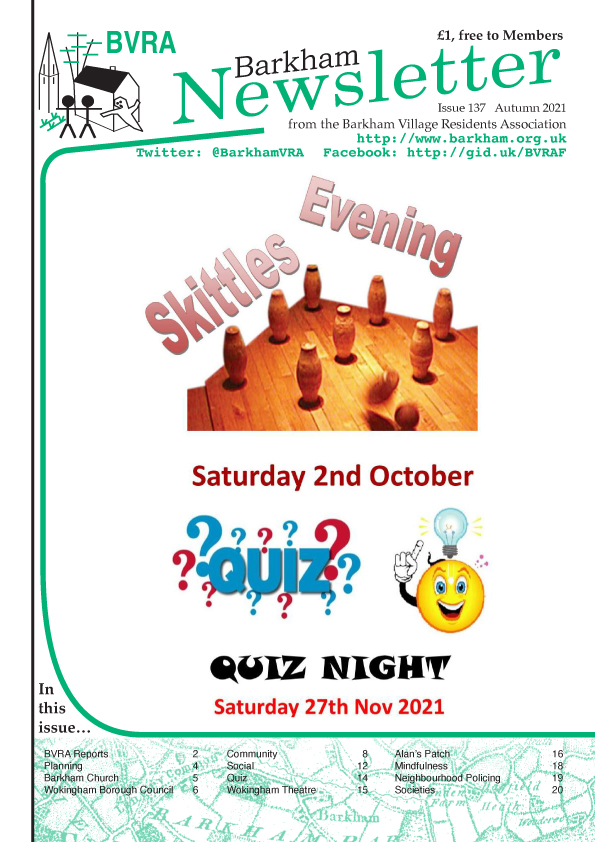 Click to access our newsletter library
And try our latest quiz "First and Last" here
Details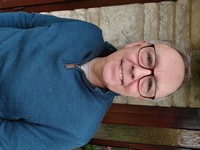 Our Chairman, Alan Dixon, is stepping after four years at the helm.. We are pleased to welcome David Edwards who joins as Chairman on January 1st 2022 David has sent these these words of welcome to Barkham residents..
"I am delighted to be joining the Barkham Village Residents Association committee as Chair and look forward to help it to prosper and grow for the benefit of everyone in Barkham. Barkham is a lovely area with lots of interesting places and activities to enjoy and the BVRA makes an important contribution to the community. My wife Gillian and I are new to Barkham but know it well, having lived in Wokingham since 1983, after falling in love with the area whilst looking for our first house, our children have grown up here and we have many friends nearby and look forward to making many more!"
Details
The competition has now closed, the answer to the question being page. 15.
The wiinner, Ben Walden is show receiving his prize..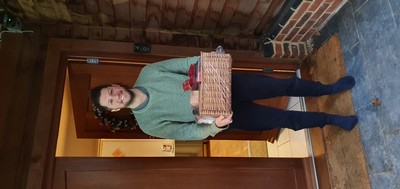 Details
Thursday 11thth November 2021
Committee Attendees: Alan Dixon, Suzanne Trigg , Alison Goudge, Bev Dipper, Richard Roberts, Gill Powell, Dave Clements
Apologies received: Stewart Richardson, Shirley Warner
Chairman
The meeting reported that we now have a full team of committee members following the arrival of Bev Dipper as Membership Secretary. We have continued to produce and distribute 4 editions of the Newsletter despite the Covid challenges. Membership payments have recovered to 2019 levels. More people are paying by Direct Debit and we have maintained the £2 subscription charge. Social activities have started again and we are hopeful that we can maintain this in the next 12 months. We have improved our in house website with additional data capture and reporting functions. Development Watch continues to highlight local issues. It is well used and appreciated by the community. Finally our accounts have been audited and signed off and we continue to have a healthy financial position.