News
Details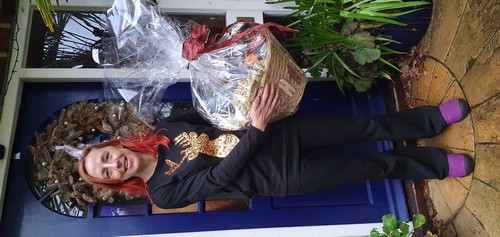 Congratulations to Phiala Mehring who is the winner of our Christmas hamper competition.
Mehing is pictured, having just been presented with the hamper by Suzanne Trigg, the BVRA Newsletter Editor.
The correct answer to the question "On what page of the BVRA issue 134, would you find Barkham Blue mentioned" is page 18.
Over 50 entered the competition, thank you for your support.
Details
Barkham Village Residents Association
AGM Meeting.
Tuesday 10thth November 2020
Present: Alison Goudge (AG); Alan Dixon (AD); Gill Powell (GP); Shirley Warner (SW); Stewart Richardson (SR); Dave Clements (DC); Suzanne Trigg (ST); Richard Roberts (RR).
Chairman's welcome
The AGM was not held as a Public Meeting due to the Covid 19 pandemic. Residents were invited through the BVRA Website to submit questions or highlight issues/concerns. None were received. The Committee Meeting did take place and any resident may request copies of the reports submitted by the individual committee members. This summary highlights the key points that were discussed and agreed.
Details
Wokinghaam BC have created a short video that explains the Covid19 support network and how to access it
Details
There is an error in the Autumn 2020 newsletter. The telephone number for Pilates shoud be 0118 989 2571
Details
Wokingham BC have asked us to make you aware of the information in the attached email they have sent